The White House was an all-white affair this weekend as Joe Biden's granddaughter tied the knot with her new husband the day before her "Pop," Joe Biden, celebrated his 80th birthday at the residence.
The wedding was the first held at the White House in ten years and the first ever for a sitting president's grandchild, making the occasion all the more special. Both President Joe Biden and First Lady Jill Biden attended the ceremony.
The private ceremony was held on the South Lawn at the White House, and Naomi's mother and father walked her down the aisle. Naomi's bouquet was made up of Lilies of the Valley, a tradition in her mother's family.
The wedding party and family members were treated to a luncheon. Then the party was moved to the executive mansion, where dessert was served, and the couple's union was celebrated with dancing.
Naomi's husband, Peter Neal, is a former White House intern who proposed to Naomi last year after dating for three years. They started dating in 2018 after they were introduced to one another by a mutual friend. They have now solidified their love with their nuptials.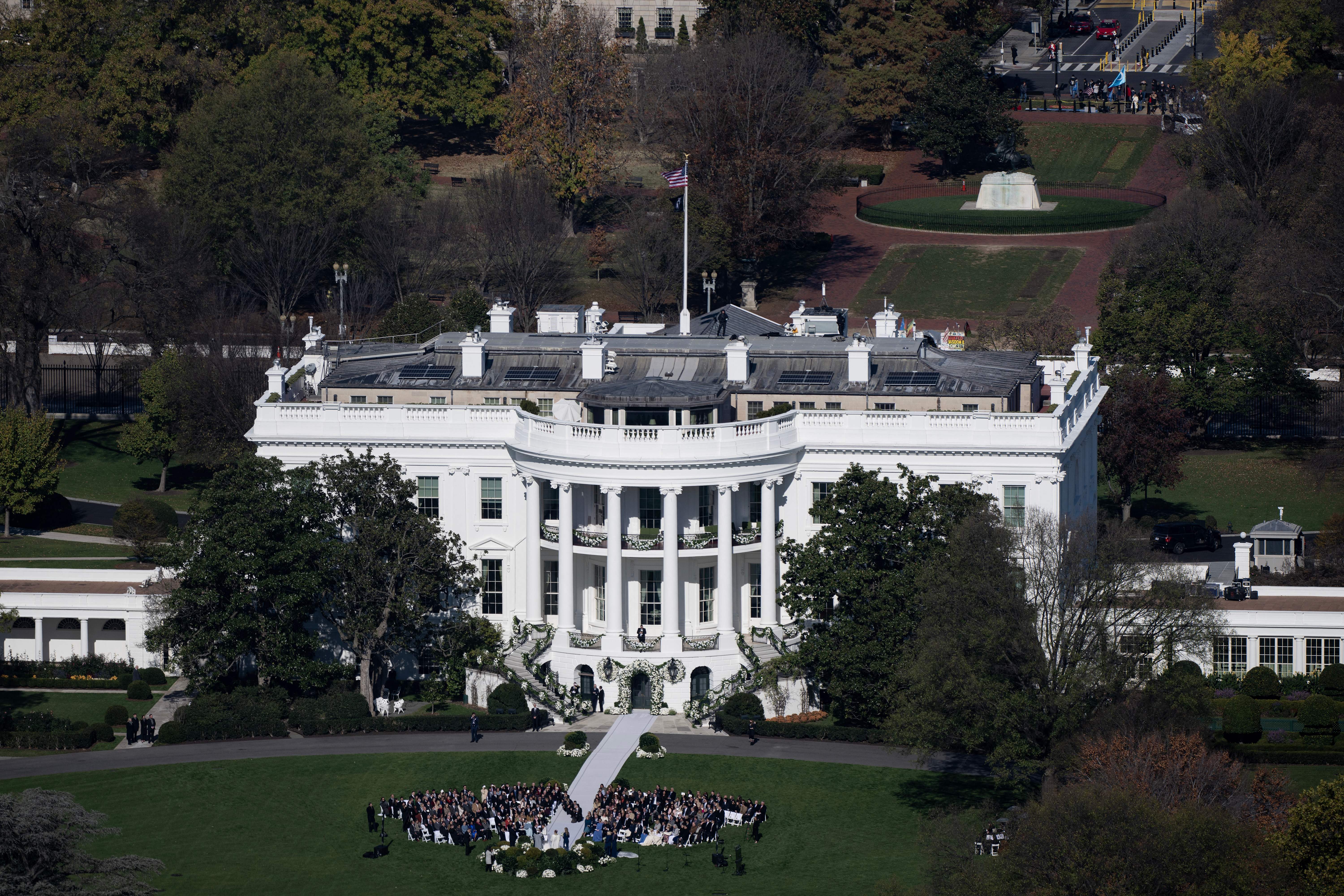 Guests gather on the South Lawn of the White House in Washington, DC, for the wedding of Naomi Biden, 28, granddaughter of US President Joe Biden, and Peter Neal, 25, on November 19, 2022 | Source: Getty Images
Naomi is very close to her grandfather, who she says is the glue that holds the family together. She mentioned that he ensured all his grandchildren felt cared for and kept family traditions going for many years.
How Did Naomi's Wedding Dress Nod to "Pop" Biden?
The couple's wedding was traditional, and Naomi opted for a traditional dress, custom-made for her by Ralph Lauren with Chantilly lace. The details of the designer were a nod to her grandfather. Ralph Lauren is a closer designer to the First Family.
Ralph Lauren is the same designer who created Joe Biden's suit, mask, tie, and overcoat for his 2021 inauguration. Naomi's dress featured hand-placed organza petals all along the bodice and a cathedral-length veil, which was made with silk organza and embroidered details.
The day after the wedding in which Naomi honored her grandfather with her dress, President Joe Biden celebrated his 80th birthday at home with his family. The First Lady mentioned that he was surrounded by family and had his favorite coconut cake.
She shared a photo of Biden blowing out the candles on his birthday cake as his family sat around him and clapped. The table was decorated with flowers and casual table settings for the occasion.
Biden's supporters took to the comments section of his wife's post to wish him a happy birthday. One user even mentioned that they thought it was a good birthday because he spent it with his grandchildren and a coconut cake.
What Bond Does President Biden Have with His Grandchildren?
Although President Biden lives a busy life and has many responsibilities, he ensures he has enough spare time to spend with his children and seven grandchildren. Naomi mentioned that he is always available. She said:
"He'll pick up our calls no matter where he is. He'll be onstage, giving a speech, and we'd call him, and he'd be like, 'What's wrong?!' "
President Joe Biden, First Lady Jill Biden, grandaugher Naomi Biden and fiance Peter Neal walk to the White House from Marine One on June 20, 2022 in Washington, DC | Source: Getty Images
She then said that every family member was close and that anything they needed to decide, from the mundane to the very important, was agreed upon as a family. Biden has also expressed his love for his grandchildren.
Naomi shared that she believed her grandfather would do anything for his grandchildren, and President Biden revealed this was true. He shares a special bond with each of his grandchildren.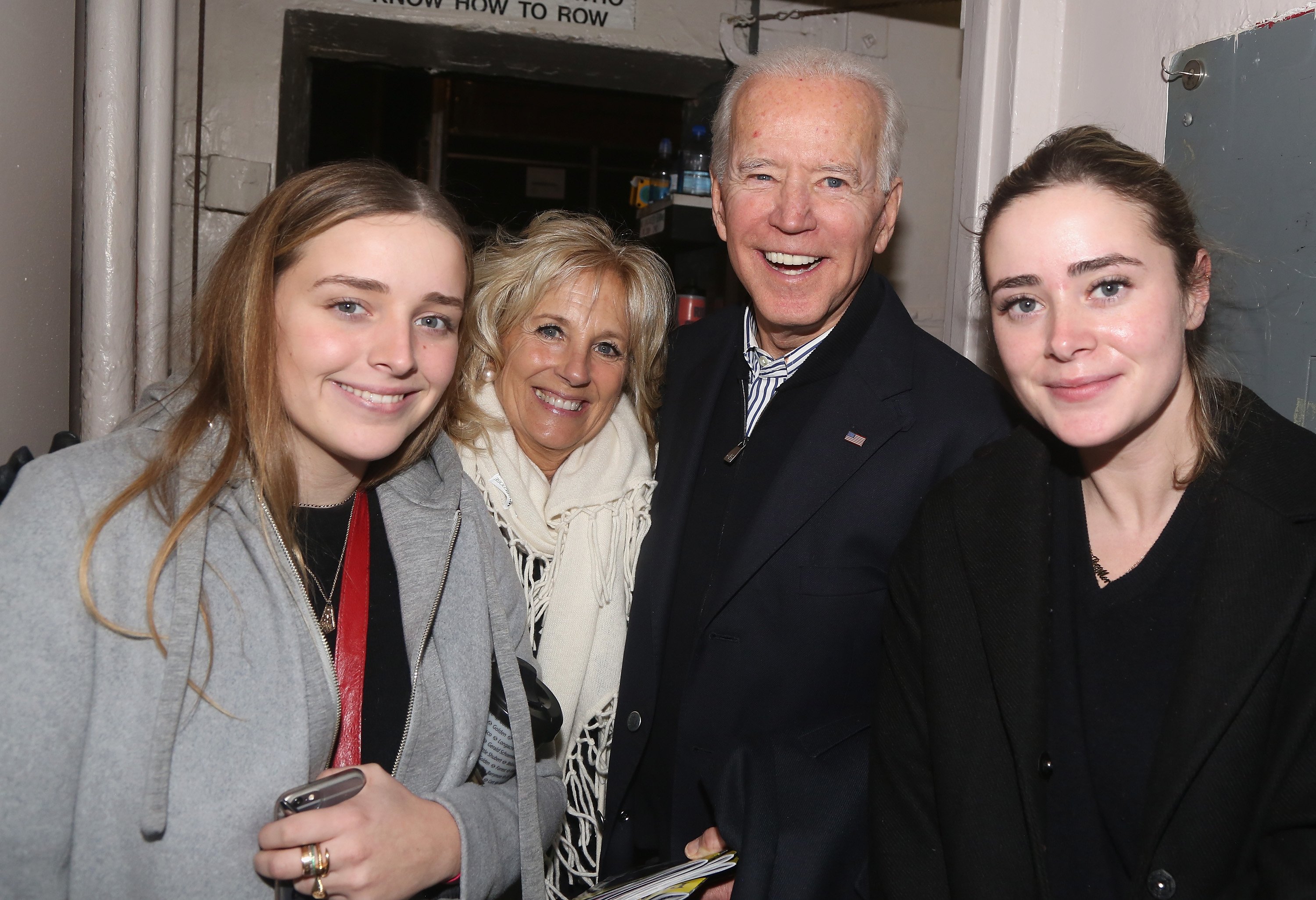 Finnegan Biden, Jill Biden, Joe Biden and Naomi Biden pose backstage at the hit play based on the classic Harper Lee novel "To Kill a Mockingbird" on Broadway at The Shubert Theatre on December 19, 2018 in New York City | Source: Getty Images
Talking about how he feels about his grandchildren and how they feel about him, Biden shared that it is a mutual feeling. He shared:
"They're crazy about me, and I'm crazy about them. Every single day, I contact every one of my grandchildren."
The Bidens have a lot to celebrate indeed. We wish Naomi and Peter nothing but love, success, and happiness for their future together and a happy belated birthday to President Biden.