Michael Douglas let Catherine Zeta-Jones know that he would become the father of her kids on their first date, and he fulfilled the promise. The two are now parents raising two kids who adore them.
Catherine Zeta-Jones has many things to be grateful for. Her career as an actress is one of the most successful in Hollywood, with movie credits like "The Mask of Zorro" and "Entrapment" under her belt.
Zeta-Jones, born on September 25, 1969, in Swansea, Wales, started preparing for fame at 4 when she started taking dancing lessons. At 15, she left school to join a touring production of a musical titled "The Pajama Game."
She got more popular after she clocked 17, and from there, it was mostly clear skies for the talented actress. Besides her remarkable career, Zeta-Jones is also thankful for her husband, Michael Douglas, with whom she shares two kids.
Douglas was born on September 25, 1944, in New Brunswick, New Jersey, U.S., and he is an actor/producer famous for his convincing portrayals of damaged heroes. He is the son of movie mogul Kirk Douglas and British actress Diana Dill, and he gained knowledge of filmmaking by joining his father at different film locations.
Their First Date Did Not Go as Planned
Michael Douglas had said that Zeta-Jones first drew his attention when she was featured in "Zorro." He thought Zeta-Jones' performance was outstanding, but they did not meet in person until the Deaville Film Festival, one month later.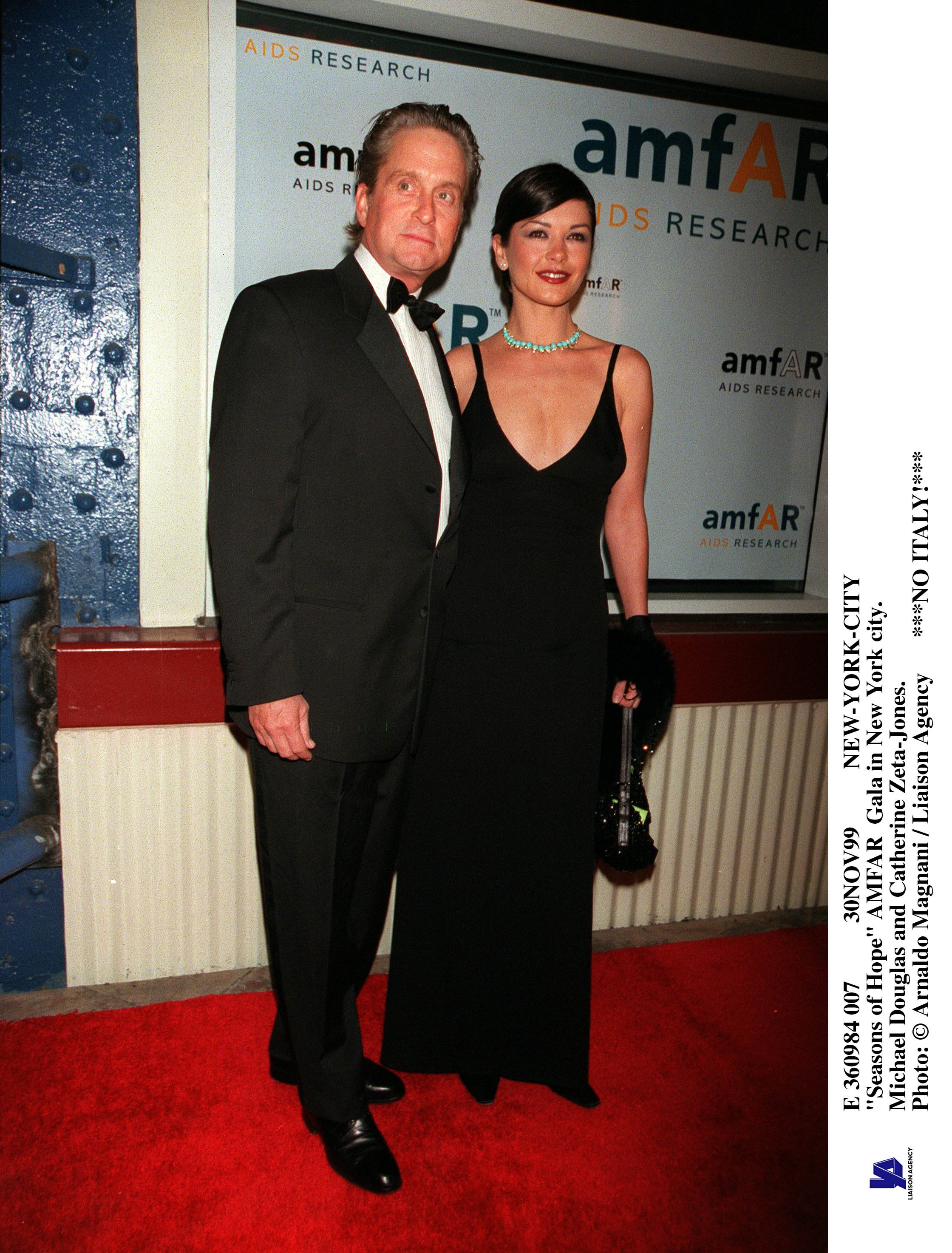 Michael Douglas And Catherine Zeta-Jones at the Amfar Gala In New York City in 1999 | Source: Getty Images
According to Douglas, he saw that they would have "Zorro" the next day, so he inquired about Zeta-Jones. He was told she would be on-site for only one day because she was shooting "Entrapment" with Sean Connery but that she would love to drink with him.
His sentence was extended by seven years when he confessed to smuggling drugs. He got out in 2016.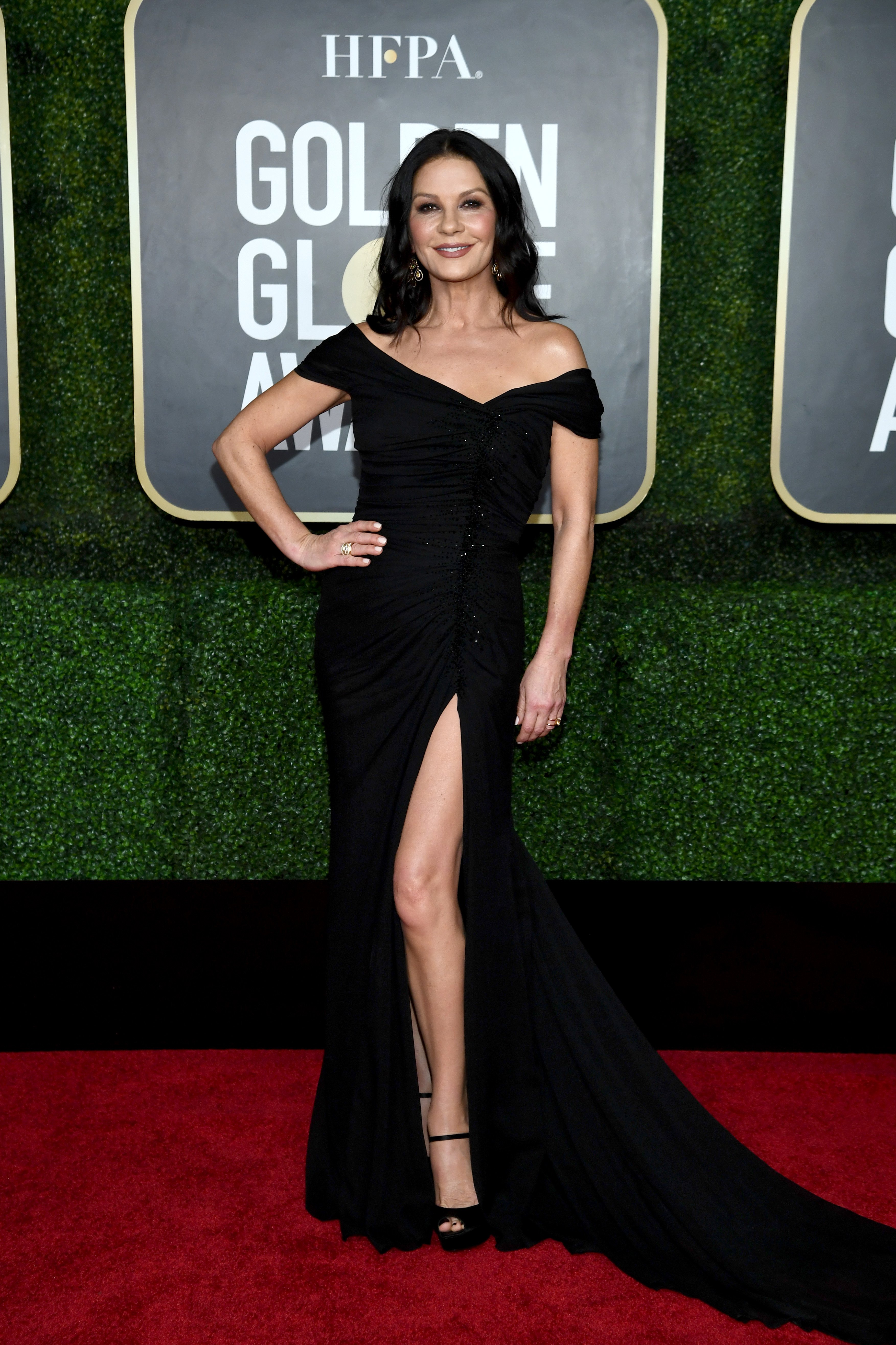 Catherine Zeta-Jones attends the 78th Annual Golden Globe Awards at The Rainbow Room on February 28, 2021 in New York City. | Source: Getty Images
Their first date did not go as planned; When they sat across from each other, Douglas looked at her and told her that he would be the father of her kids. Zeta-Jones did not find it amusing. She replied:
"I've heard a lot about you. I guess it's all true. Goodnight."
After that riposte, she left Douglas, and the following day, she was gone from the festival. The actor admitted that the line he had used was a bit over the top, but that little mistake was not enough to change the trajectory of what had started between them.
They Have Two Kids Together
The first time Douglas became a father was in 1978, when he and his first wife, Diandra Luker, gave birth to their eldest son, Cameron. The pair, who tied the knot in 1977, was still married at the time of the delivery, but they went their separate ways in 1995.
The divorce was finalized in 2000, and that same year, the actor moved on with his second wife, Catherine Zeta-Jones. They married in 2000 and welcomed their first child, a son, in August 2000. Their second child, a daughter named Carys, was born in 2003.
Douglas is known as a doting father and has said many times that his kids and wife are his greatest accomplishments. He has also said that meeting Zeta-Jones is a vital part of his life, and he is grateful that all his children have inherited the acting gene he got from his parents.
Cameron, the oldest of Douglas' kids, has been active in Hollywood for a long time; however, in 2010, he fell off and was sentenced to five years in prison for possession of heroin and trading of meth.
His sentence was extended by seven years when he confessed to smuggling drugs. He got out in 2016. Three years later, he wrote about his experiences in a memoir and turned his life around. Since then, he has become a better man and has welcomed two kids with his longtime partner Viviane Thibes.
Douglas' second child, Dylan, has also embarked on a journey to stardom via acting, even though his parents did their best to shield him and his sister from Hollywood glamour. Aside from acting, Dylan also enjoys traveling and playing music.
Dylan has dyslexia, but he has not let it hinder him and has been known to attend and speak at fundraising events for other people with mental conditions like his. He recently turned 22, and his birthday was celebrated on social media and in real life by his doting parents.
Carys, his sister, is still a teenager but also has a passion for performing. She enjoys singing and acting and has also shown her flair for fashion. In 2019, she joined her beautiful mom for the September issue of Vanity Fair Spain, and she looked like a natural.
They Have Found Great Ways to Keep the Romance Alive
Hollywood may not be the best place for love to grow, but Zeta-Jones and her husband have remained happily married for over two decades. The pair have found ingenious ways to keep the romance between them alive.
One of those ways involves paying attention to each other, which is usually expected to fade after the first few years of marriage. Indeed, regardless of how long they have been together, they still adore one another by sharing romantic tributes and gifts on their special days. Douglas once confessed he would love his wife "always and forever."
Zeta-Jones has been very vocal about how grateful she is that she made the right choice while picking the father of her kids. She once said that she "lucked out" because Douglas is not just a great father but is also a wonderful actor.
In an interview from 2021, she claimed that the secret to the longevity of their marriage is having lots of fun together. Zeta-Jones also stated that two essential keys are unconditional love, respect, and maintaining humor.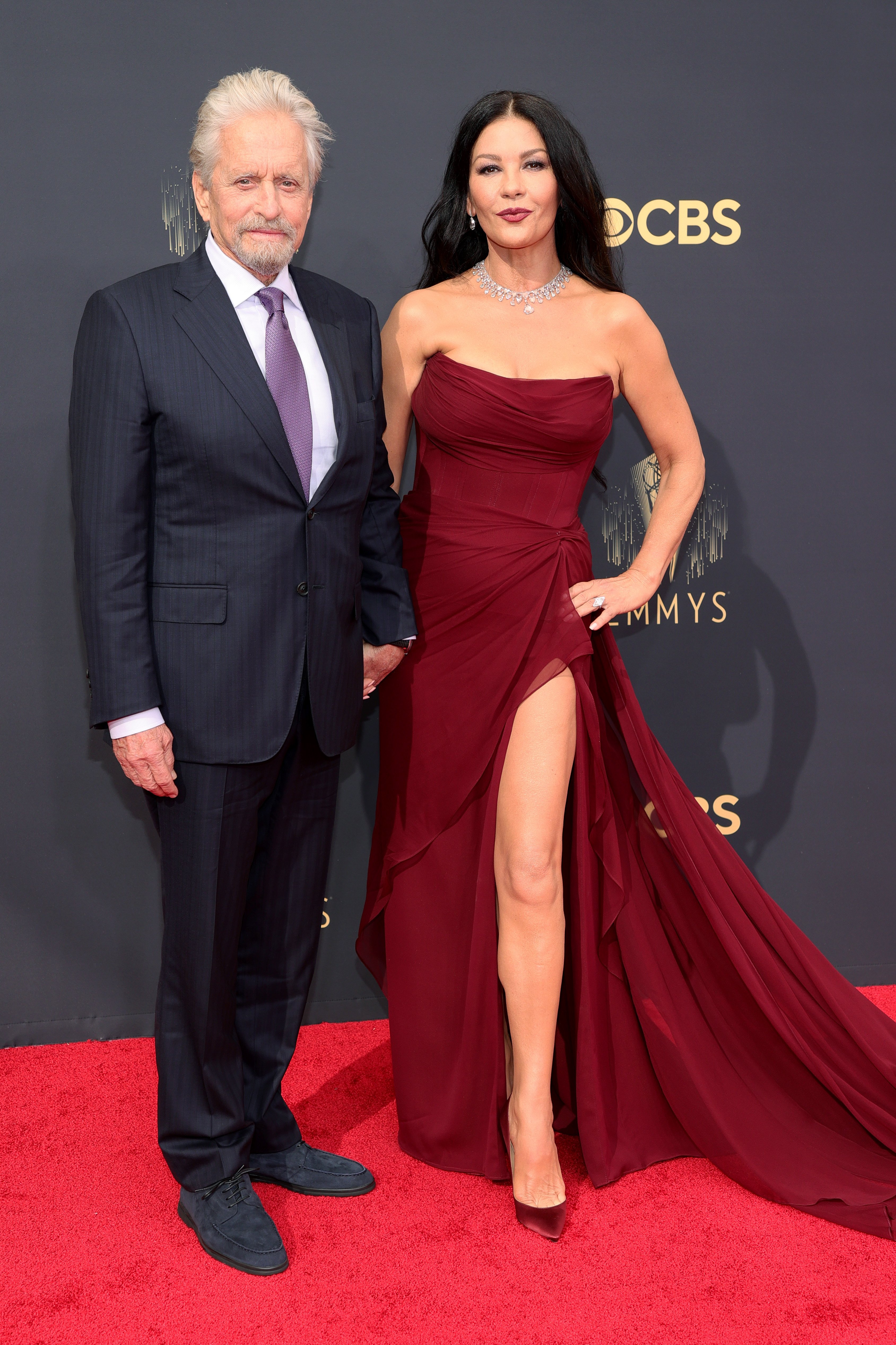 Michael Douglas and Catherine Zeta-Jones attend the 73rd Primetime Emmy Awards at L.A. LIVE on September 19, 2021 | Source: Getty Images
Besides the constant love and attention they shower on each other, the couple also likes taking vacations together. Sometimes, they share mementos from their trips with their delighted fans, who will keep praying for the longevity of their marriage.