Chelsie Kyriss is the long-suffering mother of Antonio Brown's children, with tons of drama courtesy of the free-agent NFL footballer player. They got engaged three months before welcoming their fourth child.
After a public breakup involving Antonio Brown trying to kick Chelsie Kyriss out of the house and calling the cops on her for grand theft auto, the athlete went on a short-lived apology tour. The current status of their relationship is as uncertain as his future football prospects.
The mother of six, who has two other kids from a prior relationship, has been keeping a low profile since the high-octave shenanigans of 2019/20. The footballer's pivot in the music industry is also marked with heartache. He disrespected a rumored lover with a post of her lower back tattoo.
Mom of Antonio Brown's Four Children
In an online profile, Kyriss promotes "people over profits." She was born on September 1, 1989, in Springboro, Ohio. After graduating from Springboro High School, she furthered her studies at Sinclair Community College and Georgia State University Perimeter College.
Per her LinkedIn account, she was a customer services rep for Wilton Brands Inc. from January 2012; it is unclear if or when she left. Previously she was an assistant teacher at Adventure Through Learning and an assistant manager at a shoe store.
In the mom's near dormant Instagram account, she says she's a designer and in real estate. The Ohio native has half a dozen kids, four of which are with Antonio; Autonomy, Ali, Apollo, and A.K.B. She has two older kids, Kellen and Brooklyn, from a previous relationship.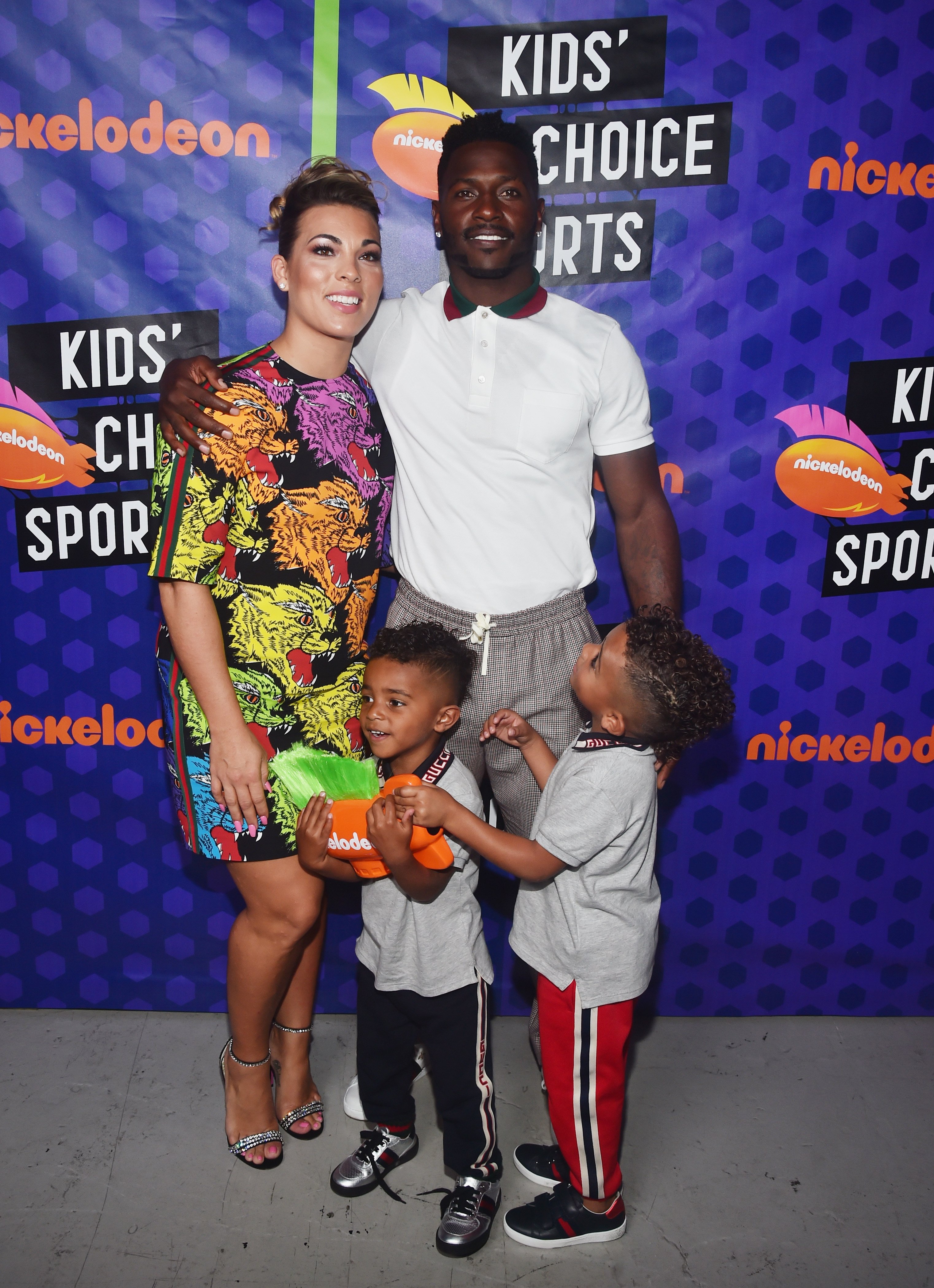 Chelsie Kyriss (L) and NFL player Antonio Brown pose backstage at the Nickelodeon Kids' Choice Sports 2018 at Barker Hangar on July 19, 2018 in Santa Monica, California. | Source: Getty Images
During a calmer period in the couple's relationship, Antonio acted as a stepfather to Kellen and Brooklyn. All of Kyriss' sons seem to have an interest in American football. Autonomy and Ali are in the Battle Hawks in a flag football league.
The designer took to social media in January 2020 to appeal to her ex to seek mental health treatment for the sake of his kids.
Autonomy has a verified Instagram account of 99.6K, managed by his mom. His brother, Apollo's account, has been dormant since August 2020, but it's interesting to note that at the time of writing, Tom Brady was one of the 12 accounts he follows, his dad's current foe.
Antonio Brown and Chelsie Kyriss Have Been on-Again-off-Again for a Decade
The last time Kyriss and Antonio were pictured together was in a February 8, 2021 post, lovingly captioned: "Baby, we did it." The couple was celebrating the Buccaneers' Superbowl win amongst confetti on the Raymond James Stadium field with Autonomy and Ali.
The pair got together in 2012 and have been making headlines for the wrong reasons. In December 2019, the rapper tried to evict the mother of his children from his Florida home with legal paperwork in which he requested a default judgment.
A few weeks later, he called the police on her, claiming she stole a Bentley from his house and streamed the altercation live on social media. She, in turn, filed a suit seeking primary custody of their kids with child support.
Kyriss previously filed a paternity suit in 2017, in which she claimed that he created a "hostile environment." The lawsuit was dropped, but he later hit back by calling her an "unfit mother."
The designer took to social media in January 2020 to appeal to her ex to seek mental health treatment for the sake of his kids. Along with their children, she said she was distancing herself from him and their home and wished him the best.
Less than a month later, the footballer posted an elaborate apology where he thanked God for allowing him to look deep into himself. He then continued to issue the "world's biggest apology" to Kyriss and their three children together.
The "God-fearing man" is pictured with Kyriss and their three elder kids in the back of a limo tagged in Paris, France. He apologized for his public outbursts and the hurt he caused while on his "emotional rollercoaster."
In March 2020, Antonio announced their engagement, and four months later, she gave birth to their fourth child on July 23, 2020. They followed their naming convention of "A" names with their newborn, but nothing more is known other than the name's initials, A.K.B.
They seem to be off again as of 2022, as he was reportedly dating Keyshia Cole in mid-2022, who was on his debut single "Don't Leave." After an ugly social media spat, Cole exposed him for callously saying, "Baby, I liked you at first, but now I don't—it's a no.'"
Brown Shares Photo with Bündchen during Her Divorce from Brady
For Buccaneers supporters, there's only one interpretation of Antonio's October 3, 2022, Insta post of him embracing Brazilian supermodel Gisele Bündchen after winning the Superbowl; he is trolling her ex and his former teammate, Tom Brady.
The post dropped the same day Brady's impending divorce became public, and he used his latest single as the caption, "Put That [expletive] On." Antonio has spoken out against the Bucc's quarterback, who was once a good friend and valuable ally, a few times this year.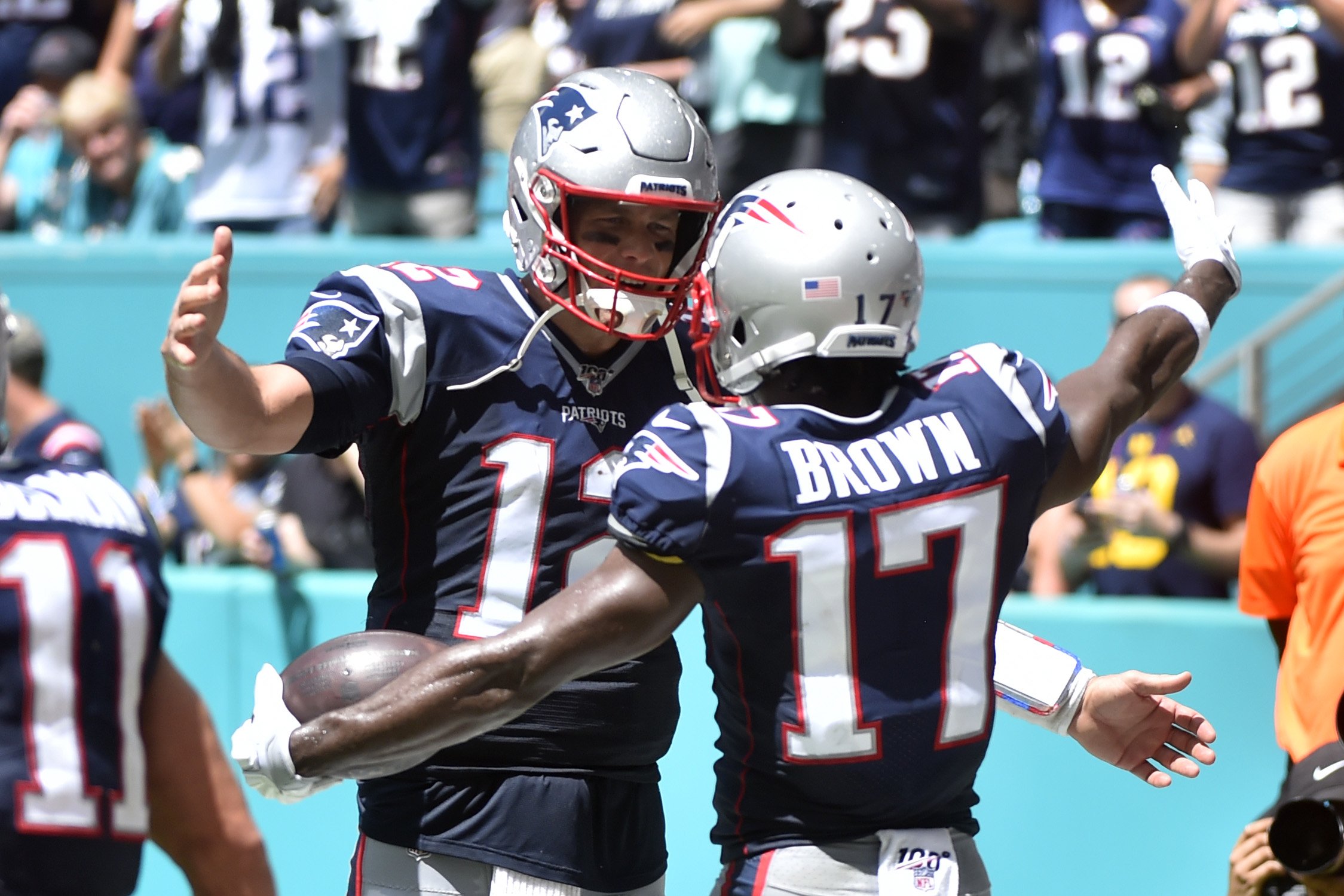 Antonio Brown #17 of the New England Patriots celebrates with Tom Brady #12 after catching a touchdown in the second quarter of the game against the Miami Dolphins at Hard Rock Stadium on September 15, 2019 in Miami, Florida. | Source: Getty Images
According to a news report, Brady had a hand landing Antonio contracts at the New England Patriots and the Tampa Bay Buccaneers. When first moving to Florida, the newly styled rapper was a houseguest of the Brady clan.
The former Bucc, dropped in January 2022 for walking off the field, was slammed in the comments for being ungrateful. One commentator said that "wives and children are off limits," while another labeled the post "the lowest of the low."